Microsoft
" Customers are looking for partner companies that can bridge the gap between their business demands and technology capabilities and they need to trust in someone that can act as an expert adviser for their long-term strategic technology plans. Only companies that have exhibited high levels of service to customers, have proven experience and have obtained advanced certification receive the designation of Microsoft Certified Partner, " said Allison Watson, vice president of the Worldwide Partner Sales and Marketing Group Microsoft.
The Microsoft Website defines as follows the Microsoft Silver Certified Partner: The Silver competency have demonstrated high-level expertise and a specialized, proven skill set in a given technology or service area. Microsoft recognizes these partners for their exceptional commitment to strengthening customer relationships by offering effective, innovative business solutions.
They have the knowledge and skills needed to help implement technology solutions that match your business needs. "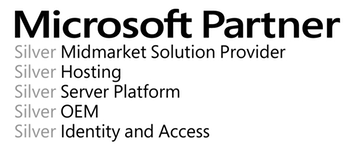 True to always offer cutting-edge solutions with high added value, AIM Consulting SA looks like Microsoft Silver Certified Partner, one of the most prestigious technological partnerships today, in order to provide a guarantee for a higher level of technical expertise, strategic planning and project implementation, boasting a wealth of experience within the Microsoft platforms and applications for Windows systems.
AIM Consulting SA can then distribute to public bodies and companies all IT solutions based on Microsoft technologies and can provide services to those who use Microsoft platforms, with the efficiency and professionalism that distinguishes a Microsoft Certified Partner.
To guarantee the quality of the service, the team of employees of AIM Consulting SA certified and qualified MCP, MCSA and MCSE is able to provide highly specialized technical advice to all those who use Microsoft tools.
The qualification was obtained after the completion of rigid certification program to certify the individual's skills and techniques related to the products and technologies Microsoft.